[ad_1]

Apple used all-new image sensors for the iPhone 13 Pro duo, with a noticeably larger sensor in the main camera. Especially for the smaller Pro, since the 12 Pro missed out on the upgrades that were exclusive to the 12 Pro Max. Said upgrades have been transferred over to the vanilla versions for 2021, however, so even the iPhone 13 mini has a sensor with 1.7 µm pixels and sensor shift stabilization.
And that helped push the new mini to 130 points in the DxOMark camera test suite, matching the old iPhone 12 Pro Max. The Pro Max is better at zooming, of course, it has a 2.5x telephoto lens to work with. However, the new Apple A15 chipset is better at processing video, more on that in a second.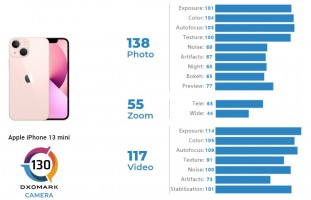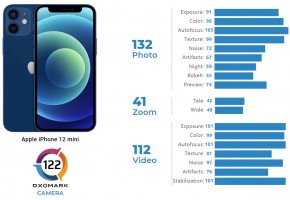 DxOMark camera scores: iPhone 13 mini • iPhone 12 mini
The two phones received equal points for the Photo score, 138 points. The iPhone 13 mini was praised for its reliable exposure, good color rendering and consistent, accurate autofocus. With no telephoto lens on board, the zoom sore (55) comes mostly from the capable ultra wide camera.
The 13 mini earned a Video score of 117, beating the iPhone 12 Pro Max's score of 113. This is only a couple of points lower than the 13 Pro received, meaning it is one of the best phones for shooting video (the mini is tied with the Xiaomi Mi 11 Ultra).
Moving on to the iPhone 13 Pro, its overall score of 137 currently places it in fourth place, behind the Huawei P50 Pro, Mi 11 Ultra and Mate 40 Pro+. However, the Photo score of 144 is among the highest.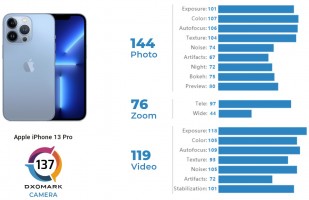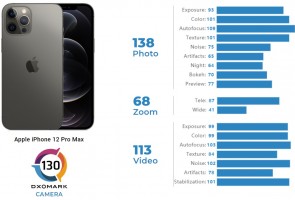 DxOMark camera scores: iPhone 13 Pro • iPhone 12 Pro Max
The performance is similar to the iPhone 12 Pro, though with a few notable improvements. Images have more detail, the new 3x lens offers more magnification than the 2.5x lens on the 2020 model, color and contrast have been improved in some tricky areas like backlit portraits. The Zoom score improved (both for the ultra wide and tele cameras), however, it just can't compete at longer focal lengths with phones that are equipped with periscopes.
The 13 Pro did top the Video scoring charts with 119 points. The videos have a very wide dynamic range tone mapping instabilities of the previous generation are gone and autofocus has been improved.
Check out DxOMark's iPhone 13 Pro camera review for more details and a breakdown of the photo, video and zoom scores. And read the iPhone 13 mini camera review for details on how the smallest flagship became the leader of its class.
[ad_2]

Source link