[ad_1]

Who remembers the Runcible? The round wooden puck was an oddly-shaped phone that was billed as the "anti-smartphone" during its crowdfunding campaign. Unfortunately, that project failed – was it because of the anti-smartphone sentiment or because of the unusual shape?
It better not be the latter because here comes another phone with an unusual shape – the Cyrcle Phone 2.0. While the display is circular, the body is more elongated, forming an ellipse. We're not sure either is a good idea.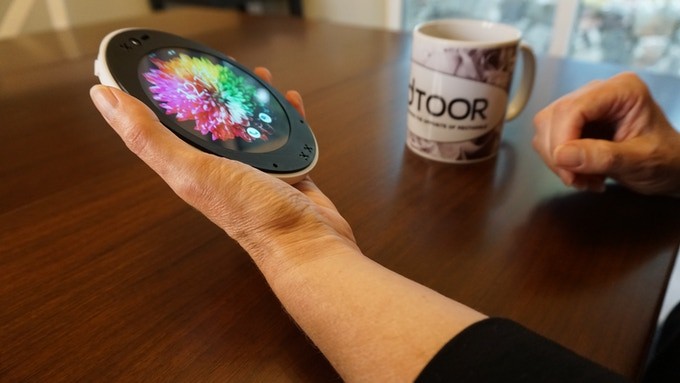 First, check out this grip – the phone measures 130mm tall, 103mm wide and 22mm thick (5.11 x 4.06 x 0.87 inches). It's wider than any recent phone that we can think of. It can't be comfortable to use with one hand. And to make things worse, the display is only 3.45" in diameter.
Of course, we can't easily compare it to a rectangular display even if we match the surface area. This is because Android apps are still rectangular and the circular display cuts off their corners. If there are important buttons in the corners, you have to use a workaround to get to them (check out the campaign page for a video).
There are a number of issues with the hardware – especially one that is priced at $700 – things like the 800 x 800 px display resolution, running Android 10, having only 3GB of RAM (LPDDR3) and 32GB storage (eMMC) and so on and so on. Clearly, the focus here is on the kooky design and not cutting edge specs.
To that end, the phone has two 3.5mm headphone jacks, which is two more than most flagships today. Even more unusual are the two USB ports – one microUSB and one USB-C (3.0). We're curious to hear the thinking behind this design decision, unfortunately, the Kickstarter page offers no justification.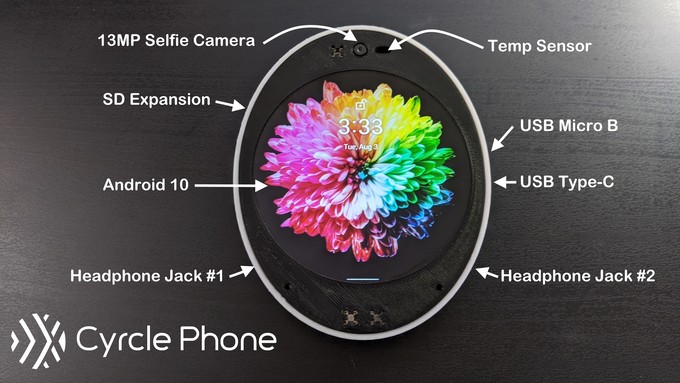 The good news is that the team behind this phone has one successful campaign behind them (you may have noticed the 2.0 in the name). The original Cyrcle phone (now known as the Cyrcle Phone 2G) was a round clamshell with a square display that was masked so only only a circular portion of it was visible.
Also, you can download the CAD files necessary to 3D print the enclosure of the Cyrcle Phone 2.0 so you can feel it in your hand before backing the project. And if you do, you can swap the phone's original enclosure (which is also 3D printed out of PLA) with yours so you can have it in any color you want.
[ad_2]

Source link