[ad_1]

A fresh new leak unearthed by M. Brandon Lee gives us our first bit of info on Google's Pixel Pass subscription service. In essence, users will pay a pre-determined monthly fee and get access to a Pixel phone with an extended warranty and device upgrades alongside Google Fi network coverage and Google's first-party services including Google One, Play Pass and YouTube Premium. Stadia is not mentioned explicitly in the leaked image.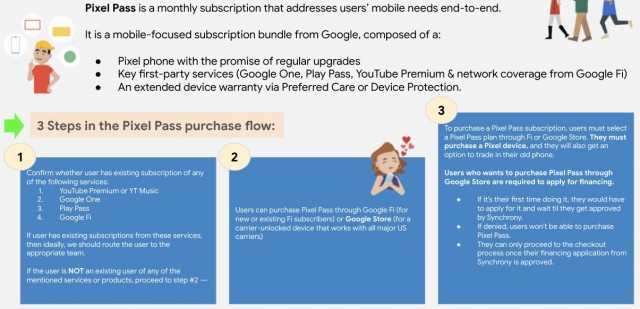 Google Pixel Pass details (image: Twitter)
If this all sounds familiar it's basically Google's take on Apple's iPhone upgrade program where users get the latest phone every year and the Apple One service which bundles all of Cupertino's key online services and streaming platforms into one monthly installment. The leaked image also specifies that users will be able to trade in an old phone when switching to Pixel Pass program and there's even an option to purchase Pixel Pass membership through Google Store.
There's no mention of pricing for Pixel Pass though with Google's October 19 event now confirmed we should be getting more details on the plan with the launch of the Pixel 6 series.
Source (tweet)


[ad_2]

Source link