[ad_1]

Apple today unveiled its two latest computer-focused ARM-based Systems-On-a-Chip (SOCs), the M1 Pro and M1 Max. Compared to the M1 that made its debut last November, these have 70% faster CPU performance.
When it comes to graphics, the difference is even more pronounced, with the M1 Pro's GPU being 2x faster than that in the M1, while the M1 Max GPU is up to 4x faster than the M1's.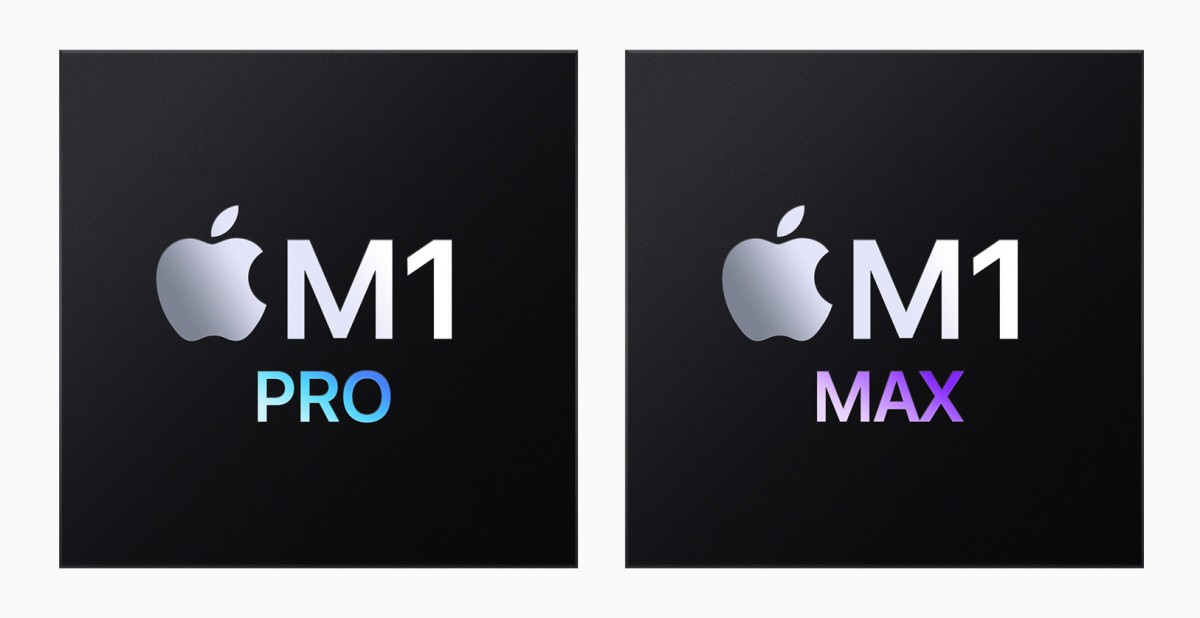 This allows "pro users to fly through the most demanding graphics workflows", Apple boasts. Memory bandwidth has been improved too, with the M1 Pro delivering up to 200GB/s with support to 32GB of unified memory. The M1 Max takes things to another level with its 400GB/s memory bandwidth (6x what the original M1 could achieve), and support for up to 64GB of unified memory.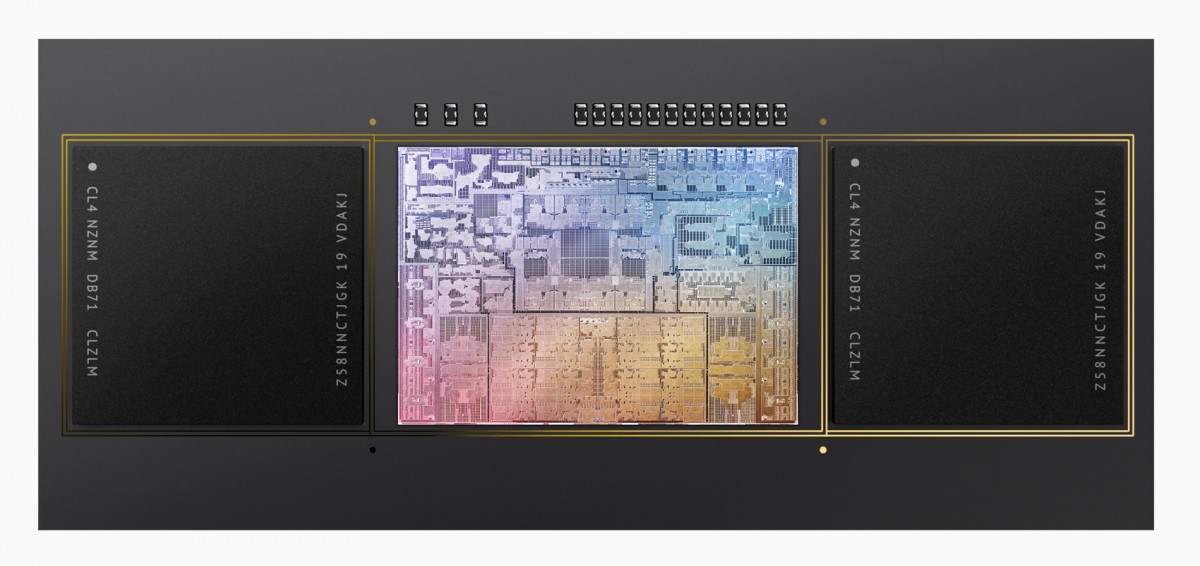 Apple M1 Pro
Apple points out that Windows laptops top out at 16GB of graphics memory, whereas new MacBooks with M1 Pro and M1 Max can use much more if need be. The company also promises that performance will be exactly the same whether plugged in or operating on battery. The M1 Pro and M1 Max additionally have enhanced media engines with dedicated ProRes accelerators for video processing.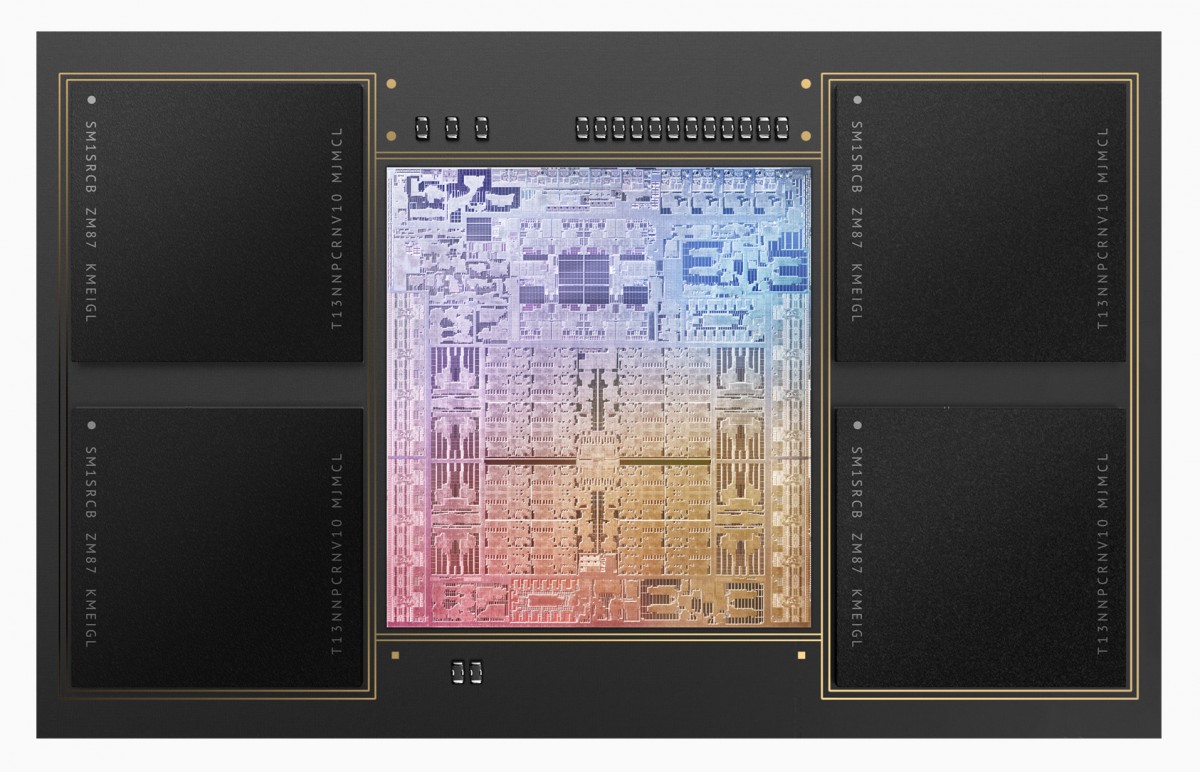 Apple M1 Max
The M1 Pro and M1 Max are built on a 5nm process. The M1 Pro has a new 10-core CPU, with eight high-performance cores and two high-efficiency cores. "Compared with the latest 8-core PC laptop chip", Apple says, the M1 Pro delivers up to 1.7x more CPU performance at the same power level and achieves the PC chip's peak performance using up to 70% less power.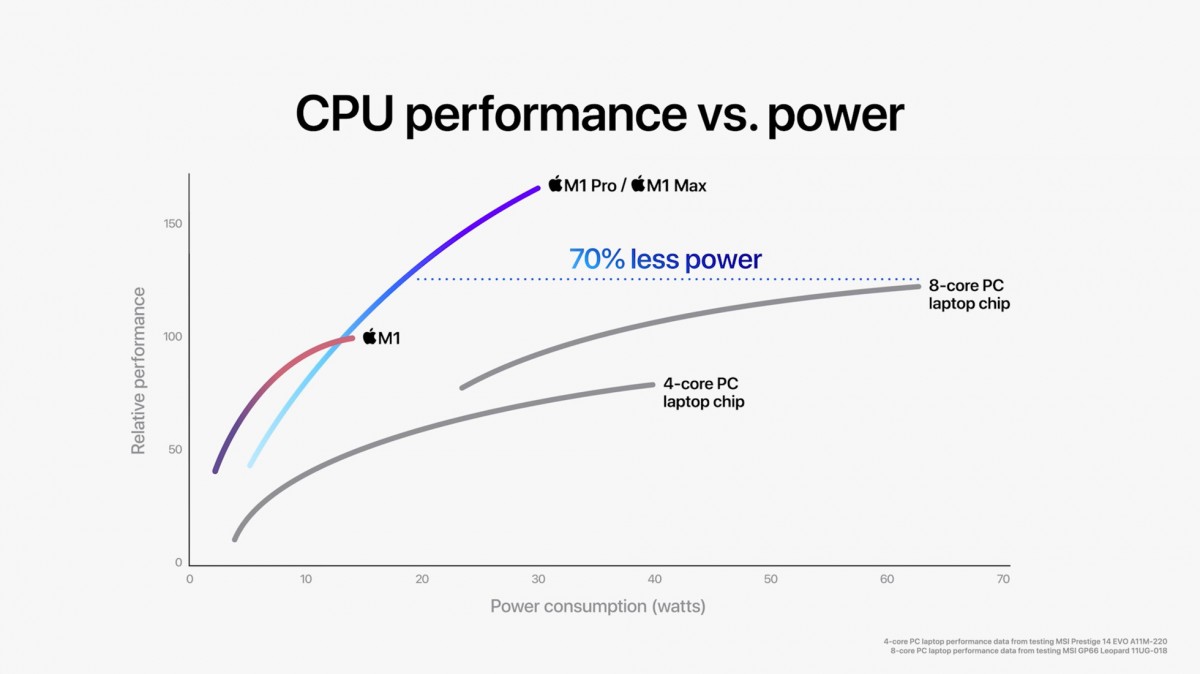 The M1 Pro has an up to 16-core GPU, which is supposedly "up to 7x faster than the integrated graphics of the latest 8-core PC laptop chip". And compared to "a powerful discrete GPU for PC notebooks", the M1 Pro "delivers more performance while using up to 70% less power".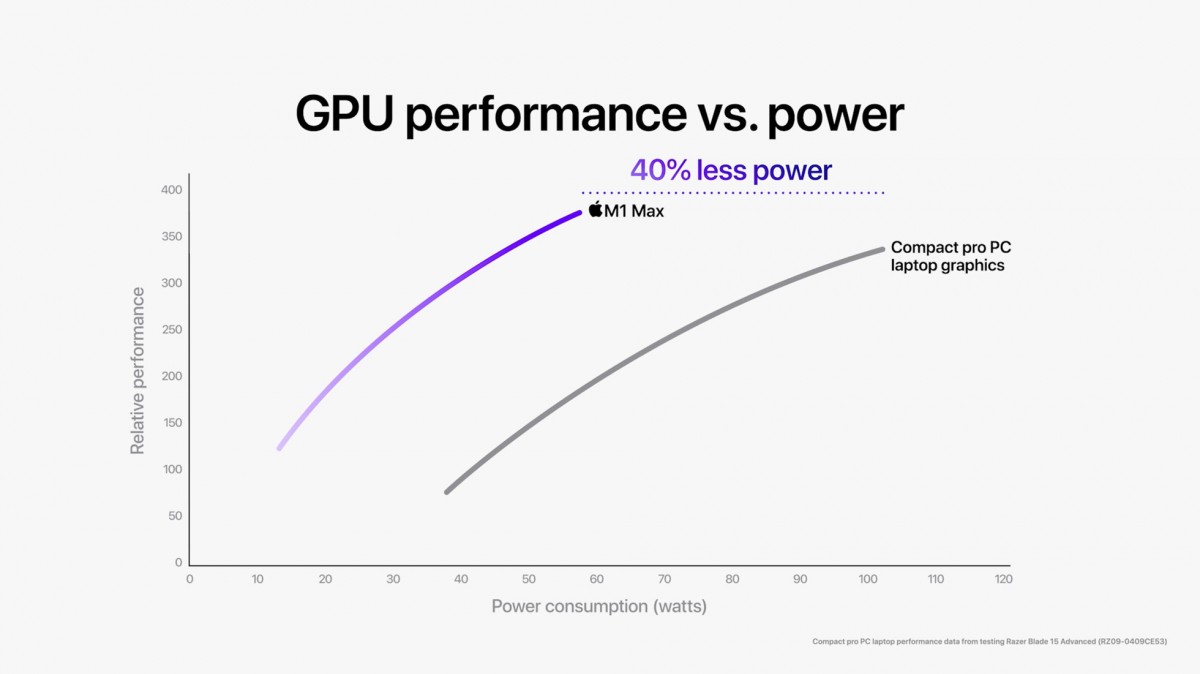 The M1 Max has the same CPU as the M1 Pro, but adds a "massive" 32-core GPU. This all adds up to 57 billion transistors, 70% more than the M1 Pro and 3.5x more than the M1. As such, the M1 Max is the largest chip Apple ever built. The GPU "delivers performance comparable to a high-end GPU in a compact pro or PC laptop while consuming up to 40% less power", as well as "performance similar to that of the highest-end GPU in the largest PC laptops while using up to 100W less power", according to Apple.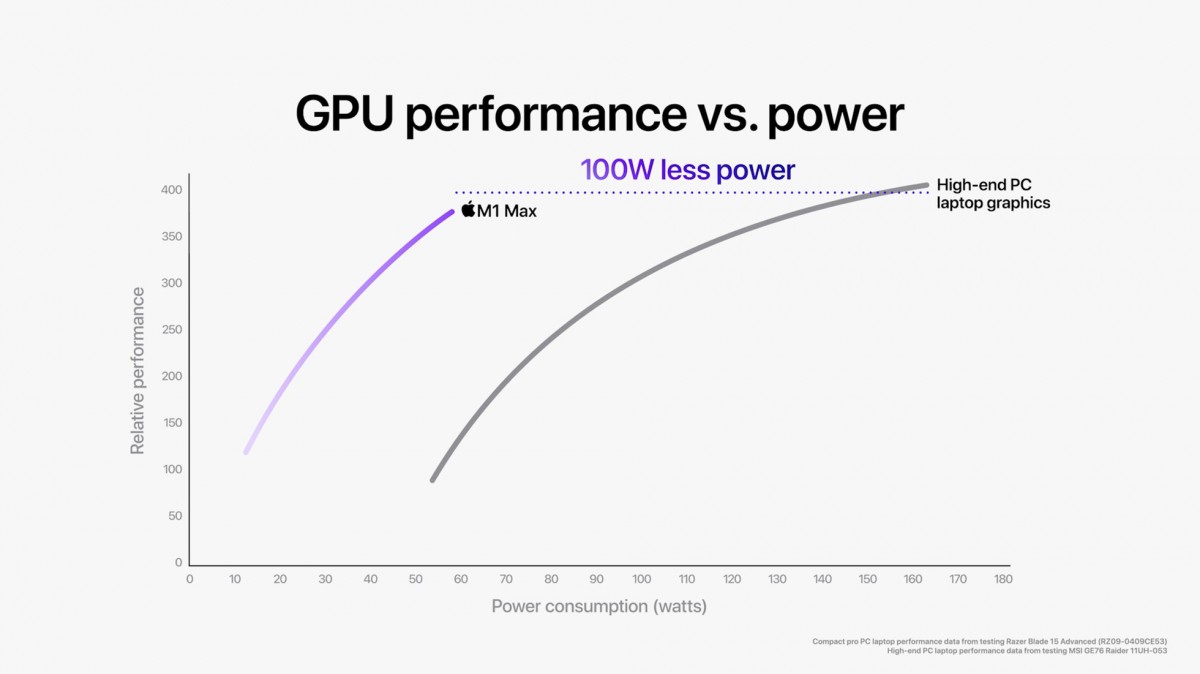 Obviously all of these claims will be put to some real-world testing in the coming days and weeks once people have received their brand new MacBook Pros with the M1 Pro or M1 Max at the core. Apple says that with the M1 Max, the new MacBook Pro does 13x faster complex timeline rendering in Final Cut Pro compared to the previous-gen 13-inch MacBook Pro. M1 Max delivers up to 2x faster video encoding than M1 Pro, as it features two ProRes accelerators. The new MacBook Pro with M1 Max can thus transcode ProRes video in Compressor up to 10x faster than the previous-gen 16-inch MacBook Pro.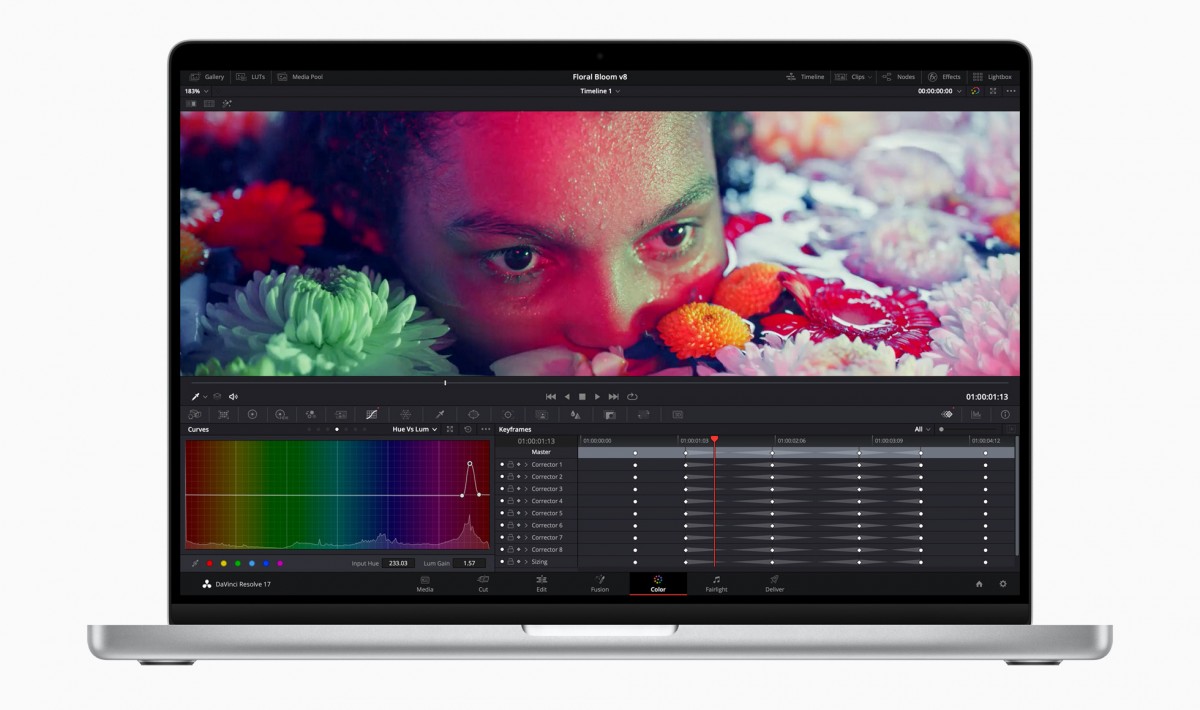 Both the M1 Pro and M1 Max have a 16-core Neural Engine for on-device machine learning acceleration and improved camera performance, a new display engine to drive multiple external screens, additional integrated Thunderbolt 4 controllers for even more I/O bandwidth, Apple's custom image signal processor that works with the Neural Engine to use computational video to enhance image quality for sharper video and more natural looking skin tones on the built-in webcam, and Apple's latest Secure Enclave, hardware-verified secure boot, and runtime anti-exploitation tech.
[ad_2]

Source link