[ad_1]

DJI unveiled the Action camera back in 2019 and since then its focus has been mostly on drones, gimbal cameras and such. Finally, it is time for a sequel – meet the DJI Action 2, which is quite different from the original in terms of looks and how it works.
First off, the camera itself is a small, square-shaped thing. It measures 39 x 39 x 22.3 mm and weighs 56g (1.53 x 1.53 x 0.88 in, 2 oz), the exterior is made out of aluminum alloy. Unlike the GoPro Session cams, however, this one has a fully-functioning 1.76" touchscreen with 446 x 424 px resolution and 500 nits of brightness.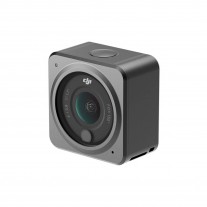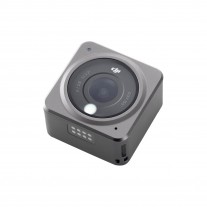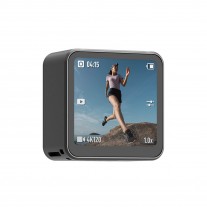 The DJI Action 2 is a tiny modular camera
The camera is equipped with a 1/1.7" sensor with 12 MP resolution and an ultra-wide 155º lens with f/2.8 aperture. DJI has upgraded the stabilization features with Rocksteady 2.0 and HorizonSteady, which keeps ensures the horizon remains horizontal no matter how much the camera moves around.
The Action 2 can record 4K video at up to 120 fps in 16:9 mode and up to 60 fps in 4:3 mode, the maximum bitrate is 130 Mbps recorded to a microSD card (up to 256 GB). It can also do 240 fps in 1080p 16:9 mode. There is a 580 mAh battery inside.
The camera is water resistant and you can dive up to 10m of water with no extra protection. But this camera gets so much better once you bring in the accessories – this is a modular camera. You can't switch the sensor and lenses like you can with an Insta360 One R, but you can still extend the functionality of the camera quite a bit.
The Front Touchscreen Module is aimed at vloggers. First, the front screen allows them to frame the shot (something to original Action also held over the GoPros). It also has 4 microphones for better audio capture and extra battery (1,300 mAh), the mod allows the camera to keep filming for up to 160 minutes.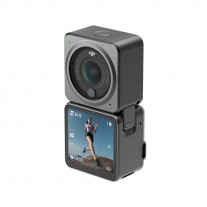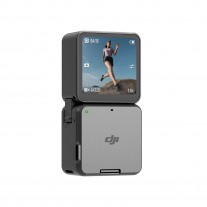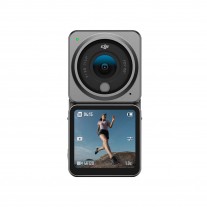 The DJI Action 2 with the Front Touchscreen Mod
If you just want the battery, the Power Module extends the filming time to up to 180 minutes (again, the second battery has 1,300 mAh capacity). And the modules are hot-swappable, so you can keep going if you have more than one.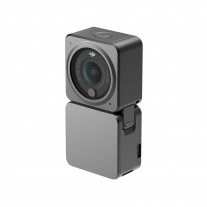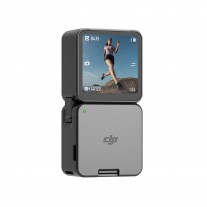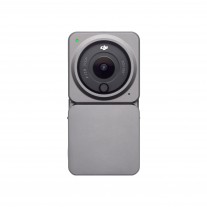 The Power Module extends the battery life to up to 180 minutes and is hot-swappable
Next, DJI took another page out of Insta360's playbook (the Go 2 specifically) and created a series of magnetic accessories. There are simple ones like the Magnetic Adapter Mount (for use with GoPro-style mounts) and the Magnetic Ball-Joint Adapter Mount.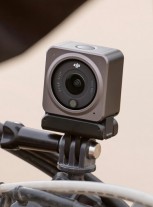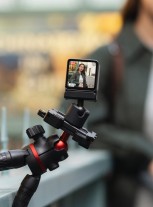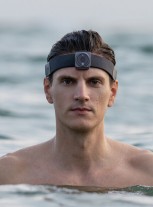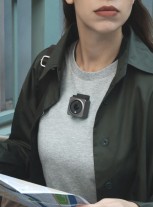 Magnetic Adapter Mount • Magnetic Ball-Joint Adapter Mount • Headband • Lanyard
There is also a magnetic pendant you can wear under your shirt on a head band, both usable for PoV shots. Also, the Remote Control Extension Rod is a tripod/selfie stick combo that comes with a removable wireless remote control.
There's much more. If you want to go in the water, there is a waterproof case that allows you to go as far down as 60m, there is also a floating handle if you're not going that deep. DJI even created a Macro Lens attachment for the camera so that you can get some creative shots.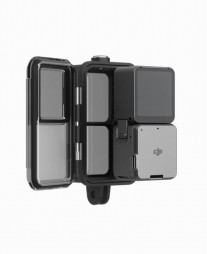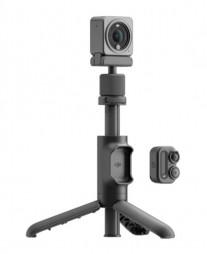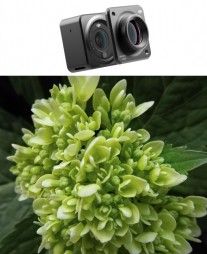 Waterproof case (up to 60m) • Remote Control Extension Rod • Macro Lens attachment
The DJI Mic is wireless, so vloggers can get more dynamic shots than they can with the Front Screen mod, also this enables voice commands so you can start the recording hands-free. Actually, the system contains two mics that can work at distances of up to 250m. The receiver unit acts as a levels monitor and has a touchscreen for easy control. The DJI Mic is on pre-order for €330.


Two wireless mics for the DJI Action 2 camera
The DJI Action 2 can be pre-ordered today, shipping will start until early November. The Power Combo (camera, Power Module, Lanyard and Adapter mount) costs €400. The Dual Screen Combo adds the Front Touchscreen Module and the Magnetic Ball-Joint mount to the mix, this one costs €520. You can find the camera on the official DJI store.
Here is a 3 minute summary of all the cool features:
[ad_2]

Source link