[ad_1]

Yesterday Qualcomm announced that it is switching its Snapdragon chipsets to the "Gen1" style naming, starting with the flagship – the former 800-series has been renamed to Snapdragon 8 and Gen1 will be the first chip to come out (we'll see it on November 30). But this change affects other chips as well, including the cx line for Windows-on-ARM devices.
Lenovo seems to be working on just such a device – here is a Geekbench result from the Lenovo QRD with a Snapdragon 8cx Gen 3 chipset.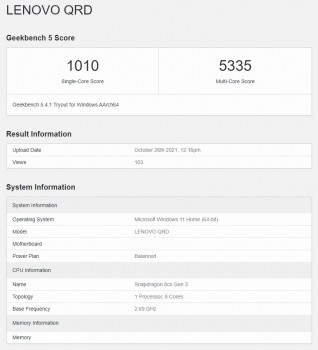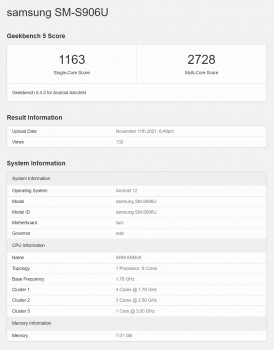 Geekbench scores: Lenovo QRD (Snapdragon 8cx Gen 3) • Samsung Galaxy S22+ (Snapdragon 8 Gen1)
The original Snapdragon 8cx was announced at the end of 2018 and was based on the Snapdragon 855. Then the Snapdragon 8cx Gen 2 arrived last year, a further tweak of the design (the cx line was already using the "Gen" naming, though with a space).
We don't know much about the Gen 3 design or the QRD. We do know that it runs Windows 11, but it could be either a tablet or a laptop – a followup to the Lenovo IdeaPad 5G perhaps, a Windows 10 laptop from January that used the original 8cx chip to offer always-on 5G connectivity and a fanless design. And we don't have to tell you why manufacturers such as Lenovo might be interested in a fanless ARM-powered laptop, right?
We also know that the 5,000+ score in the multi-core test is close to double what we've been seeing from early Snapdragon 8 Gen1 phone benchmarks. The single-core result is basically the same, suggesting that the 8cx Gen 3 uses the same Cortex-X2 prime cores, but perhaps uses twice as many prime and big cores, dropping the small ones (the total count is still listed as 8).
Also, the tablet-or-laptop QRD probably has better cooling than phones, even if it doesn't have a fan. The final thing to consider is that cross-platform benchmark comparisons (Windows-Android in this case) are not particularly accurate.


[ad_2]

Source link